But delve a little deeper and you'll see this is no ordinary bike workshop, and no ordinary mechanic.
Turn the clocks back a few years and Andy - the mechanic - was in and out of prison, struggling to break free from the revolving prison door and repeat offending. For ten years he was constantly in trouble with the police, never getting a job or achieving any qualifications.
However, the launch of a new Yorkshire Bank Bike Library at Humber Prison at the start of 2015 heralded the beginning of a new chapter of his life. Through the bike library, prisoners and ex-offenders are taught how to repair bikes, giving them new skills, increasing their confidence and helping to reduce reoffending. The bikes are then made available for hire to children and families who don't have their own.
Since its launch, the scheme has supported more than 50 offenders and ex-offenders. Some have gained new life skills and broken the toxic pattern of reoffending, while others have completely transformed their lives, leaving prison life behind to start full time jobs or launch their own business.
Andy is one of them - he regularly volunteers at the bike library's workshop in Selby Street, Hull, where the bikes are given a final check over before being loaned out to the community. "I was in and out of prison for about ten years - I was always in trouble with the police and couldn't break the cycle," he says. "I've found it really hard to get a job and I've been in a lot of trouble with the police and probation service.
"Since starting at R-evolution over a year ago, I haven't been back to prison, and I really don't want to go back in. The guys here have really helped me - if it wasn't for them I would probably be back in prison."
He was referred to the scheme through the charity Giroscope. Over the year he has completed 200 hours of volunteering and hasn't missed a single shift. In fact, he enjoys working at R-evolution so much, he has recommended the scheme to his friends. "I've told my mates to come here too. There is so much more to life than going to prison. If you look, the help is out there," he says.
But, the prisoners and ex-offenders aren't the only ones to benefit from this extraordinary initiative. Hundreds of schoolchildren in the East Riding area have been given the chance to ride a bike thanks the pioneering scheme.
With help from East Riding Council, John Marshall, CEO of R-evolution, and his team have brought the Yorkshire Bank Bike Libraries to four primary schools in the area - Boothferry Primary in Goole, Mount Pleasant Junior School in Market Weighton, Beverley St Nicholas Primary School and Pocklington Community Junior School - giving hundreds of children the chance to pick up a bike for free.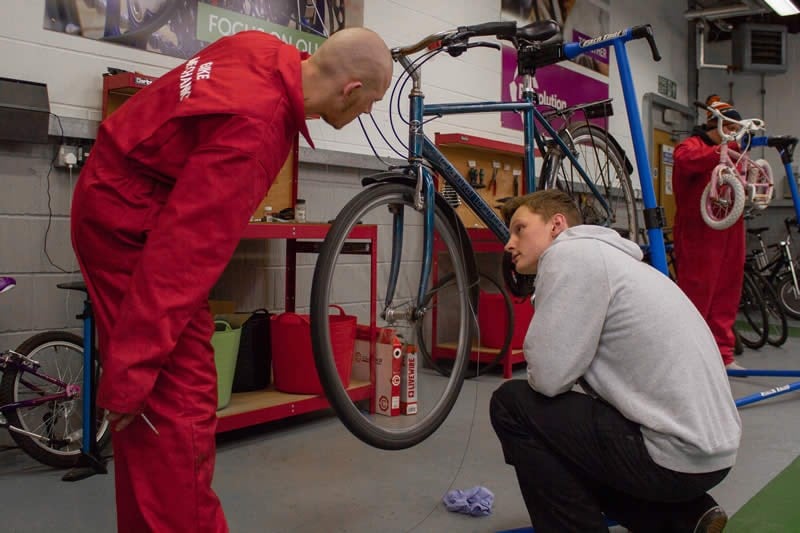 Since launching, the bike libraries have seen a phenomenal increase in cycling at the schools, with a 17% rise at Mount Pleasant Junior School; 13% rise at Boothferry Primary; 8% rise at Pocklington Community Junior School and a 7% rise at Beverley St Nicholas. All schools have also seen a huge reduction in car usage.
"It is just brilliant to see the effect the bike libraries are having in schools across the region," says John. "The look on the children and their parent's faces when we tell them the bikes are free. They just cannot believe it sometimes. These are bikes that would normally be left to gather dust in peoples' sheds or garages, but instead they are giving children the chance to discover the joy riding a bike can bring."
With more Yorkshire Bank Bike Libraries now open in Parkside Primary School, in Goole, Driffield Junior School, and St George's Primary School and Oakfield School in Hull, John hopes the bike libraries will continue to expand and inspire more children and help more offenders.
"It is a massively rewarding thing and it is great to be putting something back in the area," he says.