Home favourite Lizzie Deignan has confirmed she will ride the 2019 Asda Tour de Yorkshire Women's Race.
Deignan has not competed since the 2017 UCI Road World Championships in Bergen and gave birth to her first child in September last year. Since then she has worked hard to build her fitness and will make her return to racing on the continent this month before heading back to Yorkshire on 3-4 May.
The 30 year old made the announcement whilst visiting the Yorkshire Bank Bike Library at Leeds Urban Bike Park in Middleton, one of 61 Bike Libraries that exist across the county to give children access to bike, completely free of charge.
Lizzie is the latest world-class rider to confirm their attendance in Yorkshire after four-time Tour de France winner Chris Froome and defending champion Greg Van Avermaet also announced their intentions to compete in the men's race, which runs between 2-5 May.
The 2019 Asda Tour de Yorkshire Women's Race promises to be the biggest and best edition yet and has been moved to a Friday and Saturday (3-4 May) to enable more people to line the roadside and celebrate the race. For the first time as well, the two stages will be identical to those of the men, making it the longest and hardest edition ever with over 3,200 metres of cumulative climbing.
Once again, there will be complete parity in terms of prize money, and 14 out of the top 15 ranked teams in the world will be in action. That includes Trek-Segafredo, for whom Lizzie now rides.
The race holds great memories for Deignan, who won the 2017 edition with a stunning solo breakaway, and she will use it to step up her preparations for the UCI Road World Championships which are also being held in Yorkshire between 22-29 September.
The opening stage of the Asda Tour de Yorkshire Women's Race features the same Harrogate circuit that will be used during the Championships, and also includes an intermediate sprint on the Championships finish line on Parliament Street.
Trek-Segafredo rider Lizzie Deignan said: "I'm so excited to ride this year's Tour de Yorkshire. To be able to race on some of the World Championships course is an opportunity not to be missed and I can't wait to be back on home roads and racing in front of home crowds again."
Deignan's visit to the Yorkshire Bank Bike Library at Leeds Urban Bike Park saw her take a tour of the facility and go on a ride with a group of young local cyclists. 
Deignan added: "Today I've been at the Leeds Yorkshire Bank Bike Library helping to inspire the next generation of young cyclists. It's amazing that initiatives like this can open up the sport and create opportunities for young children – I wish there had been something like this when I was a kid and I might have got in to cycling sooner!"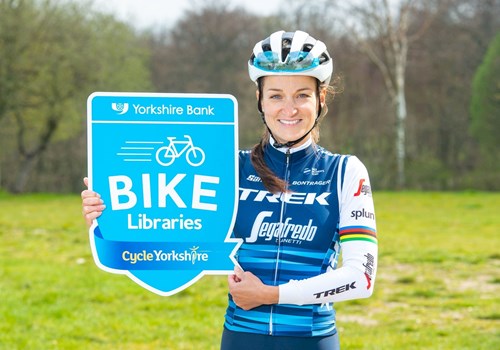 Helen Page, Group Brand and Marketing Director at Yorkshire Bank, said: "Lizzie is such an inspiration to women in and out of cycling. It's brilliant to have her here today supporting the Yorkshire Bank Bike Libraries and empowering girls to take up cycling. The Yorkshire Bank Bike Libraries has really helped to increase the accessibility of cycling throughout Yorkshire, and we hope that Lizzie will inspire a few more people to get back on the saddle."
Welcome to Yorkshire Commercial Director Peter Dodd said: "We're so pleased Lizzie will be competing at the Asda Tour de Yorkshire Women's Race and she's guaranteed to receive a hero's welcome.
"The opening stage of this year's route goes within a few kilometres of Otley, where she was born, and right through the centre of Harrogate, which she now calls home. Her race win in 2017 has gone down in history and we're really looking forward to seeing her back in Yorkshire as part of a truly world-class peloton."
Full details on the route, the teams, and all things Tour de Yorkshire can be found at http://letouryorkshire.com