As part of the Yorkshire Bank Bike Libraries initiative, Kirkstall Forge has been open as a Donation Station all week, collecting bikes donated by local residents so they can be restored for children to borrow for free.

To give locals an opportunity to recycle their unwanted bikes and put them to good use, the Donation Station will remain open another week, until Friday 17th May.
During a celebration to mark the end of a successful first week, the bikes collected were presented to representatives from New Wortley Community Association Bike Library - where they will now be restored and made available for children who otherwise wouldn't have access to one.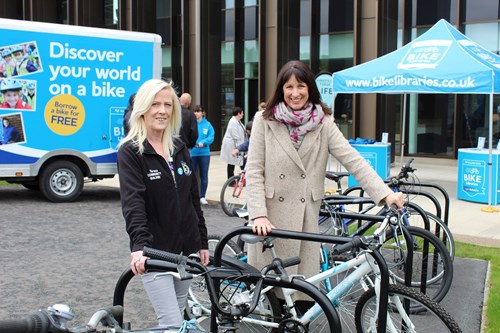 Yorkshire Bank Bike Libraries was launched by Welcome to Yorkshire and Yorkshire Bank as a legacy of the Tour de France Grand Départ in 2014 and has gone from strength to strength since its launch. To date, over 6,000 bikes have been donated by people across Yorkshire, resulting in over 75,000 opportunities for children to ride a bike.
Peter Dodd, Commercial Director of Welcome to Yorkshire, said: "Hot off the heels of the Tour de Yorkshire, it's fantastic that Kirkstall Forge has been open as a donation station this week and that it's been such a huge success.
"The generous people of Yorkshire that have donated to the Yorkshire Bank Bike Libraries initiative are really making a difference to the lives of children across the county. It's wonderful that children, who otherwise wouldn't have access to a bike, can go for a ride themselves after seeing the professionals race through the streets of Yorkshire last weekend."
Helen Page, Group Brand and Marketing Director at Yorkshire Bank, said: "Kirkstall Forge is another great example of the local community getting behind this unique initiative. We hope that lots of children have been inspired by this year's Tour de Yorkshire and take the opportunity to cycle using the bikes which have been donated to Kirkstall Forge throughout the week."
Emma Clarkson, Placemaking Manager at CEG, said: "As a site with a focus on sustainable travel, it was great to support such a worthwhile cause, helping children have the opportunity to enjoy cycling.
"We are giving local people an extra week to dig out any unused bikes in their sheds or gardens and bring them down to Kirkstall Forge so we can help as many children as possible."
The Kirkstall Forge Life team will continue to open the doors of Number One Kirkstall Forge, the first office development on site, operating as a temporary Donation Station for one week every few months and providing local residents the opportunity to donate their unwanted bikes for others to enjoy.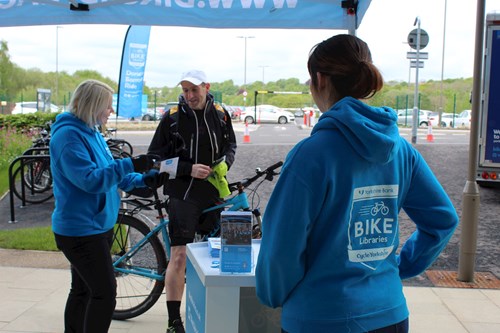 There are now 61 Donation Stations to take unwanted bikes to throughout Yorkshire, which distribute to 61 Bike Libraries across the county.
Full details of their locations be found on the locations page this website (found in the above navigation bar).