Reigning Tour De Yorkshire champion Thomas Voeckler delighted the children of Richmond Hill Primary School, a Yorkshire Bank Bike Library in Leeds, by paying them a visit ahead of the 2017 edition of the Tour De Yorkshire.
The Direct Énergie cyclist took some time out ahead of the Tour to visit Richmond Hill Primary School to hand over the 5,000th donated bike to the Yorkshire Bank Bike Libraries. Voeckler was joined by Christian Prudhomme, director of the Tour De France, and Sir Gary Verity, chief executive of Welcome to Yorkshire, to celebrate the milestone.
Launched as a legacy of the Tour De France and Tour De Yorkshire, the project, which is sponsored by Yorkshire Bank, aims to give every child in Yorkshire access to a bike. Since the launch, more than 40 bike libraries have been launched across the county, creating 36,000 chances for children to ride a bike. 

Richmond Hill Primary School was the first school to open as a Yorkshire Bank Bike Library and has since gone on to help hundreds of disadvantaged children ride bikes.
During his visit to Richmond Hill Primary School Thomas Voeckler of Direct Énergie said: "It's brilliant the people of Yorkshire have got behind the Yorkshire Bank Bike Libraries. Receiving 5,000 bikes through donations is testament to this. I think that any initiative that gets people cycling will benefit the sport."
Yorkshire Bank's commitment to cycling extends beyond this ground-breaking grassroots initiative, sponsoring the coveted race's sprinter jersey as well as being an official partner of the Tour De Yorkshire. The Yorkshire Bank Bike Libraries will again sponsor stage 3 of the Tour.
Voeckler confessed that winning last year's Tour De Yorkshire was one of the highlights of his prodigious career, adding: "Competing in Yorkshire has been amazing, the support you receive from the crowds is tremendous. It's one of the best places in the world to cycle."
The race, in its third year, takes place on April 28 and runs until April 30. The Tour will see the return of some of the world's best cycling teams in the world to take part in one of the biggest cycling events in the UK calendar.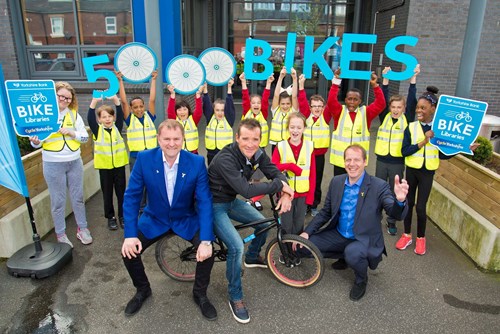 Sir Gary Verity, Chief Executive of Welcome to Yorkshire, said: "It is a real honour to have Thomas Voeckler to present our 5,000th bike to the Yorkshire Bank Bike Libraries.
"We launched the Yorkshire Bank Bike Libraries with the aim of giving every child in Yorkshire access to a free bike regardless of their circumstances, and I am delighted to see that we are moving ever closer to that goal. 
"Since launching our very first one two years ago, 36,000 opportunities to ride a bike have been given to children across Yorkshire through the bike libraries, which is truly incredible. 
"Donating your old bike to the scheme is a very simple task, but is one that could change a child's life forever - you never know, you may be responsible for the next Thomas Voeckler!"
Helen Page, Group Innovation and Marketing Director at Yorkshire Bank, said: "We are delighted to reach the 5,000th bike donation milestone. Watching the Yorkshire Bank Bike Libraries grow from strength to strength has been fantastic. We're proud to support cycling in Yorkshire at all levels."